Komodo Island is the largest island among the islands in the Komodo National Park area. With an area of about 390 km², inside this Island is still well preserved a legacy from the time of the Dinosaurs. Komodo Dragon, as we call this giant animal. Komodo Dragons that are still scattered in Komodo National Park, are still found on at least two islands, namely Rinca Island and Komodo Island.
Loh Liang
Loh Liang is the main entrance to see Komodo dragons on Komodo Island. In Loh Liang, there is a small pier where our ships will dock.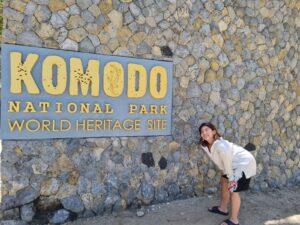 And in this place is also the base camp of the rangers who will guide us to see the komodo dragon. We can start our soft trekking to explore Komodo Dragons from Loh Liang.
Before our trekking, the ranger and our guide will give you some information about what should we do during our trip here. And normally they will give us the option of track, start from short trekking that will take about 1 hour, medium trekking for about 1,5 hours, and long trekking about 2 hours.
In Loh Liang you can also buy some souvenirs that are sold by local residents from Komodo Village.
Pink Beach
Besides the Komodo dragon, another interesting place that we can visit on this Island is Pink Beach. Pink Beach is only about 15 minutes
from Loh Liang by Boat. And Pink beach is still part of Komodo Island. Pink Beach is the best place for snorkeling,
Coral reefs and several types of fish are very easy to find here. Snorkeling in this place can generally be started from the beach, but in order to be more comfortable and safe, visitors are required to use a life jacket while snorkeling.
In addition to snorkeling, the beautiful beach in this place is also one of the favorite places for visitors. This slightly pink beach is an attractive spot for sunbathing and relaxing.
Here are some of our trip to Komodo Island:
For More Information: Please do not hesitate to Contact Us, or just send us Whatsapp Message to get fast Responses.