Komodo Island Tours consist of Tour Packages to Visit Komodo National Park in Indonesia. Visiting and seeing the Komodo dragons is everyone's priority when coming to Labuan Bajo. 
Rinca Island and Komodo Island is two main island where you can see this gianta Lizard. But actually, Beside this two Islands, you can also enjoy other beauties in Komodo National Park. Padar Island with exotic and amazing scenery. Pink beach presents a beautiful beach panorama with a fantastic underwater world.
And there are many other spots, as your destination on thise Komodo Island Tours, such as: Kelor Island, Kalong Island, Manta Point, Gili Lawa, Kanawa Island, etc.
We have prepare our Best Komodo Island Tours to visit all these place. And you can choose the trip depend on your time. We have One Day trip, 2 days 1 night komodo tour, 3 Days 2 Nights trip to Komodo, and our longest trip is 4 days 3 nights Komodo Trip. 
Please check out our tour packages as below: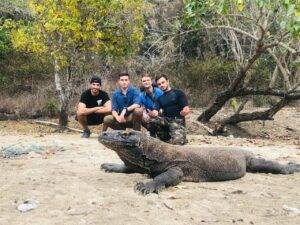 Komodo Tour 2 Days 1 Night is trip to Komodo National park for two days and spending one night on the boat. We provide...
Read More
Important Information about Komodo Island Tours
How to book the tours?
If you interest to get more information about our tour Packages and you would like to book it, please Send us Message By Email or WhatsApp messenger. We are always have time to discuss about your planning. And we are not put the price here, so to get the price you can get directly by Contacting Us. 
How to get Best Price?
All tours that we have prepared are private trips. And the price of each trip depends on the type of ship used and the number of trip participants. If you want to get cheaper price, you can invite some more friend or family and doing this trip together. Beside get best Price, you will also could hire a bigger boat. 
Open Trip
Open trip only available for 3 Days 2 Nights Komodo Trip that leaves every friday to sunday. And beside that, we also have daily trip by speed boat (leave every day).
What to Bring a long With You?
Casual Clothes
Sunscreen
flip-flop and trekking shoes / Sport Shoes
Swimming Suit
Hat
Cash Money for Entrance fee and to buy something on the island.
Camera and Charger
Payment Method
We will always ask for 25% as a down payment when you book trip with us. And the down payments can be transferred via Transfer wise. Meanwhile, the remaining payment will be paid when you start your trip in Labuan Bajo. And the rest of the payment is paid in cash.
Refund and Cancelation
We can only refund the deposit if the cancellation is caused by extreme weather which causes us to not be able to sail at all. But we will not refund the deposit if the cancellation is due to customer reasons while we have prepared all the trip needs such as boats, food, fuel, etc.
Travel insurance
In all the trips we have prepared, the price does not include travel insurance. So it is highly expected for all customers to prepare their own travel insurance before making a trip.
Bank and ATM
In Labuan Bajo there are several banks such as: Bank Central Asia (BCA), Mandiri, BNI and BRI. Likewise with ATM machines that can be found on the main road of Labuan Bajo.
But in Komodo National Park, you will not find some ATM machine or Bank. So if you would like to do trip by boat, would be better if you prepare only cash. 
Komodo Island Boat Tours | Komodo Blessing Adventure | Komodo Tour Packages | Komodo Tour | Komodo Trip | boat Trip to Komodo Island | Komodo Boat Tours | Private Komodo Tour | Luxury Trip | Paket Wisata Labuan Bajo | Paket Wisata Komodo | Labuan Bajo Tour | Komodo Tour Indonesia | Komodo Island Tours | Flores island land trip | Flores Island Tour Packages | kelimutu lake Trip | Waerebo Village Tour | Labuan Bajo Tour packages | Paket Wisata Labuan Bajo | Paket Wisata Komodo | Trip Pulau Padar | Trip Pulau Komodo |