Kalong Island is a small island in front of Rinca Island and is included in the Komodo National Park Area. Kalong means bat, so this island is also called Bat Island.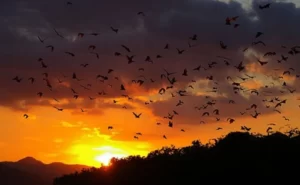 This island is not like other islands that have white sand, but this small island is made up of Mangrove Plants. Kalong Island is very close to Rinca Island, and its location is in front of Rinca Village.
How to get There?
To get to this Island, we will need to take boat, and it will take about two hours if you take slow boat or wooden boat, and if you use speed boat, it will take about 45 minutes.
Here are some of our tour packages to get to Kalong Island:
So what will we see on this Island?
As the name implies, this island has its own charm, especially in the afternoon. Thousands of fruit bats will come out of the mangrove forest in the afternoon. And usually they fly in search of food to Flores Island which is only located in front of the island of Kalong.
So the special attraction of this island is to see thousands of bats flying. With a combination of beautiful sunsets, this is certainly one of the special places to visit.
Please do not hesitate to Contact Us, or just send us Whatsapp Message to get fast Responses.