Rinca Island is Open Now – Rinca Island is one of the islands inhabited by Komodo Dragons in Komodo National Park. This island is located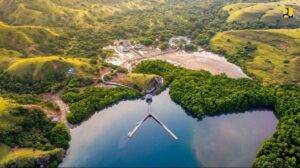 relatively close to Labuan Bajo which is only about 2 hours by slow boat or about 45 minutes by speed boat.
Starting October 1, 2022, Rinca Island has been reopened to visitors, after being closed in order to improve the existing tourist facilities on this Island.
The area of Rinca Island is about 198 km², and after reopening, Rinca Island will implement the capacity system. And Rinca Island will only receive 1,000,000 tourists per day. At 07:00 am – 12:00 am it will only be filled by 600 people, while the rest (400 people) will be at 12:00 – 17:00 pm.
To visit Rinca Island, we have several Tour Packages as below:
One Day Trip to Rinca Island
For More Information about Rinca Island is Open Now Please Contact Us, and just send us Whatsapp Message to get fast Responses